Shopping Cart
Your Cart is Empty
Thank you for your business!
You should be receiving an order confirmation from Paypal shortly.
Exit Shopping Cart
The Iconoclast® Rehabilitation boot is a working recovery boot for horses that have sustained an injury or strain to the soft tissue (ligaments or tendons) of the lower limb. Working in conjunction with our patented Double Sling Straps® is our patented Orthopedic Wedge®, which is positioned against the back of the fetlock joint and the first phalanx (upper pastern).
The soft ergonomically designed Orthopedic Wedge® provides additional vertical support to the ligaments and tendons of the equine leg. This support is beneficial to aid in the recovery of damaged tissue. Proper use of this product in conjunction with other recommended modalities of treatment will reduce the opportunity of scar tissue development during recovery. Our Double Sling Straps® ensure proper stability of the wedge insert by providing balanced, 360-degree support which prevents hyperextension or over flexing of the sesamodial region.
These boots are not recommended for use as performance boots. They are designed to be used in rehabilitation and recovery only.
Please note: the Rehabilitation Boot does not accept bell boots -- please refer to the Iconoclast® Orthopedic Support Boots.
Iconoclast® Orthopedic Support Boots feature the patented Double Sling Straps for unparalleled lateral support. With its evenly distributed support to the suspensory branches, Iconoclast® is the only boot that truly lifts and cradles the equine leg. Designed to reduce joint interference and restriction, this is the perfect all around boot for every equine discipline.
Iconoclast® Orthopedic Support Boots will help your horse feel more confident with each step he takes, in and out of the arena. Iconoclast® Bell Boots are the perfect compliment to our Orthopedic Support Boots. The Iconoclast® Rehabilitation Boots offer the perfect solution for horses that have sustained an injury or are presenting signs of soreness in their suspensories and sesamoids.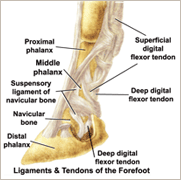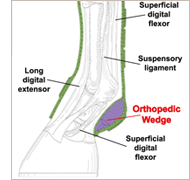 Iconoclast® Extra Tall
Orthopedic Sport Boots provide
360-degree lateral support
Performance horses need extra support because they are exposed to difficult maneuvers such as hard stops, backing, deep turns, jumps, and long, full strides. As a result of performing these maneuvers the hock reaches a fully flexed position and a "vertical load" force is applied to the hock joints and the soft tissue of the lower limbs.

Since the suspensory ligament attaches at the top of the cannon bone, just below the lower hock joints, it can become stressed or injured due to these forces from above.




The extra height of this new boot will help to save the upper suspensory ligament from injury during these strenuous performance maneuvers. The Iconoclast® Extra Tall Orthopedic Sport Boots features four upper straps in addition to our patented Double Sling Straps® which wrap around the base of the fetlock, lifting and cradling it with unparalleled 360-degree lateral support. Iconoclast® Boots provide properly balanced support to the vertically moving tissue of the equine leg. No other boot or wrap in the industry can give this much real, balanced, proper support.


0

/